2017 is in the rear view mirror and the road to 2018 is directly in front of us! As starting a new year is a great time to gain some perspective, let's reflect on some of the changes brought about this last year in the Canadian housing and mortgage market, and maybe speculate a little bit about what's to come. Mortgage writer Steve Huebl from Canadian Mortgage Trends keeps on top of things quite nicely, here are a couple of his latest articles. Let's look forward, first, then backwards! 
The Latest in Mortgage News – 2018 Forecasts
It can be a chore to stay on top of the latest mortgage news these days, particularly given the barrage of forecasts and predictions for housing markets in 2018.
Unsurprisingly, the majority of forecasts for the year ahead have focused on OSFI's new mortgage rules, including the mortgage stress test for all uninsured mortgages, which officially come into effect on January 1, 2018.
Here's a sampling of some of the latest forecasts on where home sales and prices are headed in the new year and beyond, and the impact that the new B-20 mortgage rules are likely to have.
CREA Forecasts Drop in Home Sales
The Canadian Real Estate Association (CREA) came out with its latest home sales forecast for 2018, and now expects a 5.3% drop in national sales to 486,000 as a result of OSFI's new mortgage regulations.
That's about 8,500 sales lower from its previous forecast. The Association also expects home prices to drop 1.4% in 2018 to $503,100.
"With some homebuyers likely advancing their purchase decision before the new rules come into effect next year, the 'pull-forward' of these sales may come at the expense of sales in the first half of 2018," CREA said in a statement.
"Meanwhile, other potential homebuyers are anticipated to stay on the sidelines as they save up a larger down payment before purchasing and contributing to a modest improvement in sales activity in the second half of 2018."
Reuters Poll Points to Smaller Home Price Gains
A recent Reuters poll of analysts that found home prices are expected to grow just 1.9% in 2018 (vs. the 8.5% gain seen in 2017) due to the tougher mortgage rules and an expectation for further interest rate increases.
Toronto home prices are expected to cool to 2% in 2018 and rise to 3% in 2019, while Vancouver year-over-year price gains are still expected to hit 6% in 2018 before cooling to 4.6% in 2019.
A majority of the analysts surveyed said the new mortgage rules will have a "significant" impact on housing activity, though most noted that higher interest rates pose the biggest risk.
RE/MAX Outlook Points to Growth in the Suburbs
The 2018 Housing Market Outlook published by RE/MAX noted two distinct trends in 2017 that are expected to continue into 2018: the shift towards condo ownership in Canada's highest-priced markets, Toronto and Vancouver, as well as a race to the suburbs for prospective homebuyers looking for better affordability.
In 2017, demand for condos in both Toronto and Vancouver continued to outpace supply, with prices increasing 16% and 22% year-over-year, respectively.
RE/MAX forecasts an overall 2.5% increase in residential sale prices in 2018 "as the desire for home ownership remains strong, particularly among Canadian millennials."
CMHC Sees Moderating Home Price Increases
The Canada Mortgage and Housing Corporation (CMHC) is forecasting continued growth in home prices in its Housing Market Outlook, but at a more moderate pace.
It expects MLS average home prices to increase from a range of $493,900-$511,300 in 2017, to a range of $499,400-$524,500 by 2019.
CMHC also provided its forecast on expected interest rate increases over the near-term horizon: "In our baseline scenario, the posted 5-year mortgage rate is expected to lie within the 4.9%-5.7% range in 2018 and within the 5.2%-6.2% range in 2019."
The Contrarian View
The folks over at CIBC don't foresee OSFI's new regulations having much material impact on the housing markets in both Vancouver and Toronto, at least not over the long run.
In case you missed the research note from CIBC's deputy chief economist Ben Tal, he wrotethat government efforts to cool the Toronto and Vancouver housing markets will do little more than soften Canada's two most expensive housing markets.
"On the surface [the stress test for uninsured mortgages] reduces the purchasing power of typical buyers by close to 20%, and we estimate that no less than 10-15% of mortgage originations will be impacted by that move. However, the actual reduction in demand is likely to be much less significant," Tal wrote. "We suggest that the combination of the creative imagination of borrowers, some exceptions to the rule and increased activity among alternative lenders will soften the blow to the market as a whole with actual demand slowing by only 5-7% in the coming year."
Tal also cites supply constraints for new housing development, particularly in Toronto, along with long-term housing demand in Toronto and Vancouver from new immigrants and non-permanent residents as increasing price pressure over the long run.
2017 – A Year in Review
As we count down the final days of 2017, we look back on a year that presented fresh challenges for the mortgage industry with the announcement of yet more mortgage rule changes.
While OSFI's B-20 changes dominated headlines during the later part of the year, here are some of the other top mortgage newsmakers for 2017:
Rate Movements
After two years with the overnight target rate stuck at 0.50%, the Bank of Canada began a new rate hike cycle with quarter-point increases in July and September, with more hikes widely expected in 2018. 
The most important benchmark for fixed-rate pricing is the 5-year government bond and in 2017 we were reminded of how fast 5-year yields can climb.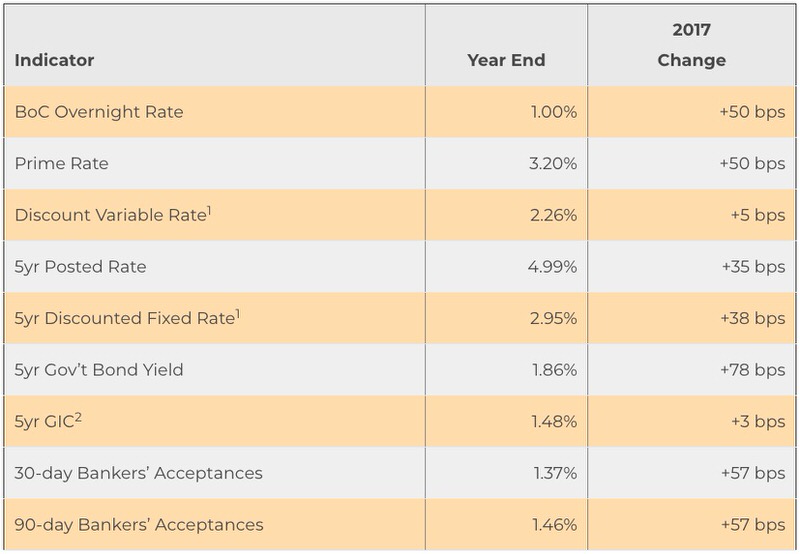 Stock Moves
Finally, here's a look at the performance of Canada's big banks along with the public companies that make the majority of their revenue in the mortgage business.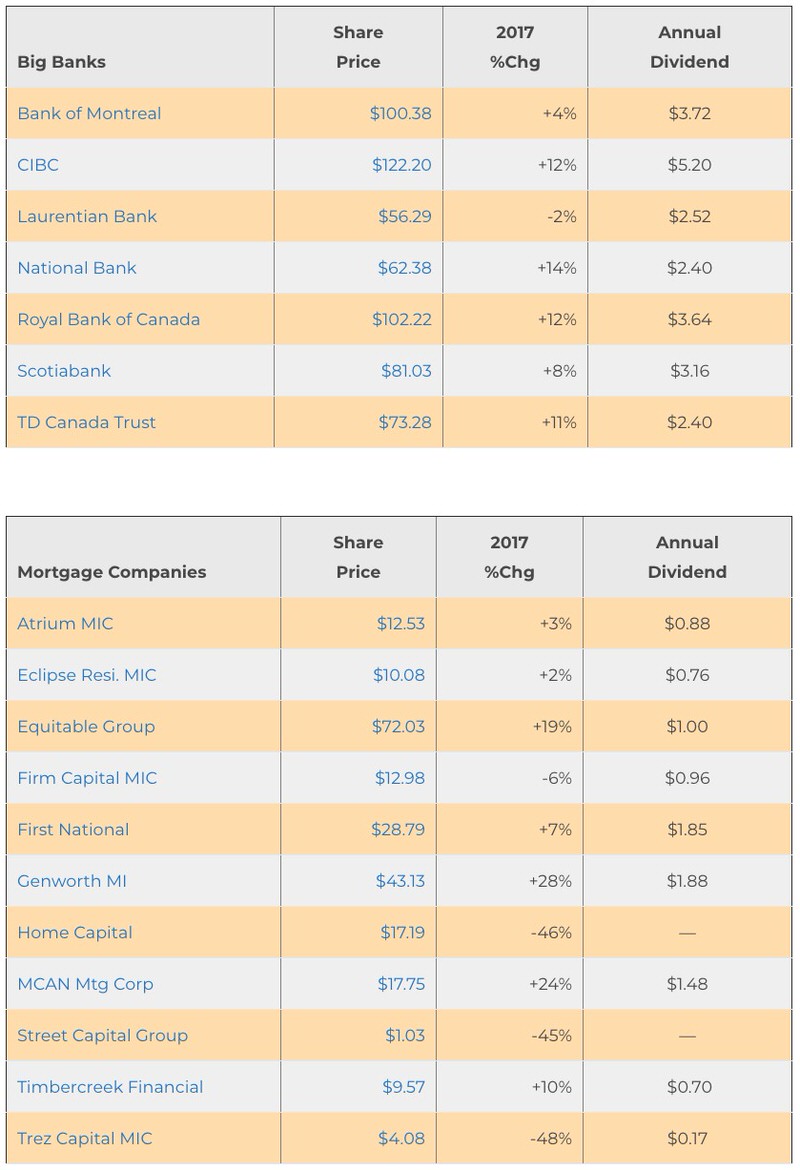 1 Discounted mortgage rates reflect estimates taken from the most competitive lenders' rate sheets, as of December 31.
2 RBC's 5-year non-redeemable GIC with monthly interest is used as a proxy for GIC rates. In reality, some lenders have to pay notably more on their GICs than RBC.